Soy Wax Melts G - H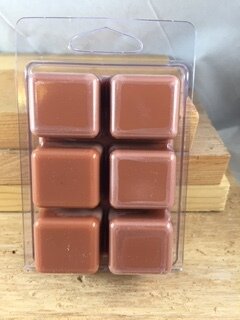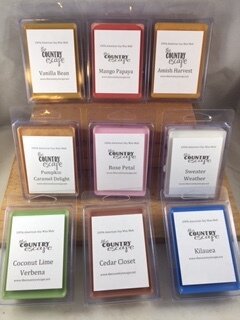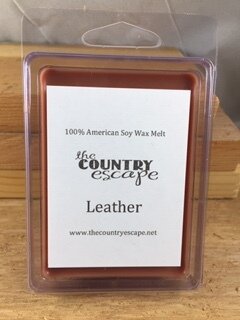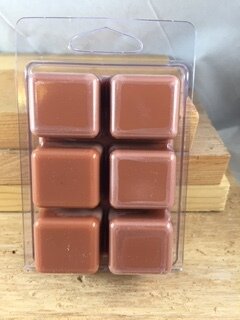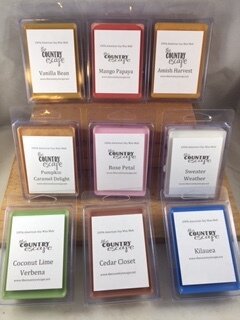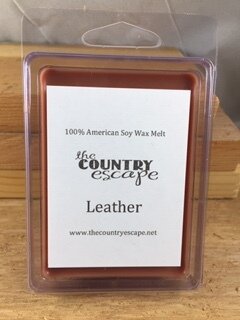 Soy Wax Melts G - H
You are purchasing one of our 100% American Soy Wax Melts. These are designed to be used in electric wax warmers. Each of the packs has six individual compartments. We recommend that you use two cubes in the regular size warmer. We have the following scents available:
PLEASE LIST THE SCENT(S) YOU WANT
Gardenia- A floral bouquet of white gardenia flowers.
Genuine Leather: Spot on true leather scent. This one is perfect, strong, and true to its name
Georgia Peach- Smells just like fresh picked ripe peaches. This is not a sickening strong scent, very a good scent throw- great for a wonderful background.
Ginger and Lime- A clean and refreshing scent. A beautiful blend of lemon, orange and ginger oil top notes with lily and lilac, orange flower and lime oil on a base of vanilla, amber and musk. This is a good strong citrus scent, great for kitchens and bathrooms.
Ginger and Pear- A hint of orange adds sparkle to this blend of fresh pear and warm ginger. Rich tones of cinnamon and maple enhance the ginger note as it blends with the base of sugared vanilla bean and golden amber.
Gingersnap Pumpkin - Gingersnap infused with white pumpkin and Autumn spices on a bed of vanilla and Turbinado sugar.
Grandma's Kitchen – Fill your room with the smells and memories of going to Grandma's house for the holidays.
Granny Smith Apple – A Crisp and Tart scent that captures the true scent of fresh sliced Granny Smith Apples. When we tested this scent we found it to be light to moderate scent in a large room. A great background scent- clean and crisp slightly tart - a true apple scent.
Green Tea & Cucumber - This is a duplicate of the Bath and Body Works fragrance. A refreshing light fragrance that fills the room. This is a perfect blend of smooth Green Tea and clean fresh Cucumber. This scent has a very good scent throw.
Grey Dawn – Top notes of Calabrian bergamot, black pepper and shaved cypress with mid notes of saffron flower, sweet hay and chicory wood on a dry base of supple leather accord, white patchouli, crystallized amber and diamond musk. Has a good scent throw filled our large bedroom with a great aroma.
Hanky Panky - This fragrance is packed with sweet and tangy oranges, pineapple, and ripe sweet berries, sugar crystals and hints of vanilla! This is crazy good and packs quite a punch!
Hansel & Gretel's House – Fresh from the oven fresh baked Gingerbread, and sliced releasing the aroma of spices and vanilla.
Harvest Blessing- Smells just like the popular Yankee Candle scent 'Harvest'. The fragrance of the harvest and the blessings throughout the holidays.
Harvest Festival: Pamplemousses, nutmeg shavings, white birch, Mown hay stacks, coumarin, orris root rich cassia bark, Tonka, galbanum resin
Harvest Moon- This warm Autumn scent will put you in the mood for hay rides and Halloween. Spicy cinnamon blends deliciously with orange peel, creamy vanilla, and light fruity tones. Hints of baked apples and oak give life to this multidimensional fragrance, while a warm bottom layer of musk and spices balance it all out. So cozy!
Hazelnut Coffee- A rich, full-bodied aroma accompanied by the buttery appeal of freshly roasted European hazelnuts and a touch of indulgent cream
Herb Garden- Awaken your senses with the smooth aroma of fresh herbs.
Hibiscus Guava Fresca- This is a duplicate of the new Bath & Body Works Fragrance. A blend of beautiful Hibiscus, Guava, and Beach Blossoms.
Hillbilly Mistletoe- Fresh scent with a hint of pine - great holiday scent. This fragrance will fill your room with the warmth of the holidays. A really nice take of a mistletoe/evergreen type fragrance. Has a hint of fruit that adds that little something extra.
Holiday Sparkle- An enchanting blend of spruce, apple cider, cranberries, and plum form the top layer of this jovial scent. Grapefruit, mandarin, cinnamon, and clove notes intertwine to rejuvenate the holiday spirit in all of us, as the light essence of vanilla beans and musk provides a delicate finish. Get ready to sparkle and shine at all your Holiday celebrations with this fragrance!
Hollyberry Mistletoe- Crisp, fresh and full of surprise. Christmas is here and the smell of fresh mistletoe and holly berries dance through the air. A not to piney not to sweet smell that truly reflects the smells of the season.
Home for the Holidays – A duplication of the popular Yankee Candle scent, this scent features fresh spruce boughs wrapped in cinnamon and clove with a touch of tart orange peel.
Home Sweet Home- A duplicate of the popular Yankee* type fragrance, cinnamon and clove with rosemary and ylang. - Comforting and relaxing. Has a strong scent throw
Honey Lavender Gelato - Just like the popular Yankee Candle* fragrance! A delightful lavender treat with fresh violet, cool blackberries, raspberries and topped off with creamy vanilla and warm honey for a delectably sweet finish.
Honeysuckle- A honeysuckle blend with hints of jasmine, rose, and lilac
Hot Apple Pie- The great aroma of a freshly baked hot apple pie. This scent has a very good scent throw and smells just like hot apple pie.
Hot Cranberry Tea-A beautiful blend of cranberry, bergamot and lemon top notes with white flower and ylang ylang.
Hydrangea- Reminiscent of luscious purple hydrangeas in bloom on a warm spring day.