Special Offer 3 Six Packs Wax Melts - Choose from Lots of Scents -100% American Soy- Maximum Scented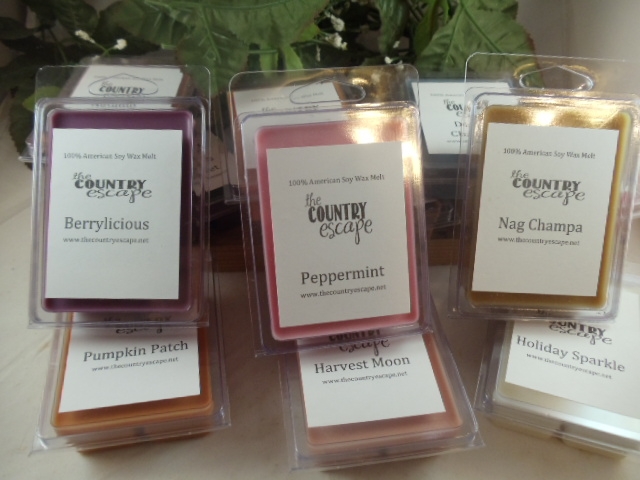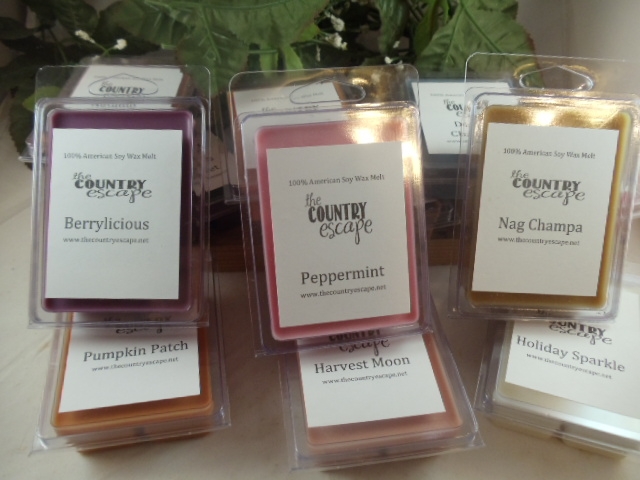 sale
Special Offer 3 Six Packs Wax Melts - Choose from Lots of Scents -100% American Soy- Maximum Scented
From our Country Escape to yours, bringing you great products from the country.
You are purchasing three packs 100% American soy wax melts for electric warmers. Each pack has 6 compartments of scented wax. Because the melt is soy it is much easier to clean from the warmer than paraffin. Our melt are made in small batches and are hand poured. We use the maximum amount of scent that the wax can hold and are considered TRIPLE SCENTED. Our melts have great scent throw, nevertheless some scents are naturally stronger that others. Our wax melts weigh 2.8 oz.
Escape to the country with our 100% soy wax melts.
Almond Pastries – Light flakey pastries with a sweet almond flavor. A great comfort scent.
Amaretto - An awesome blend of cherry and vanilla. A strong scent
Arugula - A very clean scent with a hint of green, great for bathrooms and bedrooms- very strong scent throw
Autumn Harvest- Nice fall blend of orange, grapefruit, and clove.
Apple Cinnamon- The great aroma of fresh baked Apples sprinkled lightly with Cinnamon
Apple Slices- Pure apple smell in a subtle scent, not overpowering or sweet but clean and crisp
Baby Powder- A great bedroom or bathroom scent.
Balsam Cedarwood- This fragrance has the uplifting aroma of majestic balsam fir with a touch of cedar and other soft woody notes.
Bamboo- Fresh clean crisp exotic Bamboo.
Barnwood- A great inviting woodsy barn wood scent, very appealing rustic and pleasant.
Bayberry – Fir and Clove on a Lilac Bouquet. Classic Bayberry scent.
Bergamot – Fresh pressed zests with hints of Tangerine.
Berrylicious- This is a great strong scent a perfect blend of ripe, juicy blueberries and raspberries sit on a bed of creamy vanilla icing for this perfect dessert topping.
Bird of Paradise - A sweet mixture of Strawberry, Vanilla, and Wild Cherry. Has a good fruity-floral scent and strong
Black Fig & Honey- Wild Honey accented with White Pear and Green Apple on a Black Fig Base. Has very good aroma, fills a room nicely.
Blackberry – The rich aroma of fresh picked blackberries.
Blackberry Sage- A complex Berry and Herbal Blend that soothes and enhances the mood
Black Cherry – Heavenly aroma of succulent ripe black cherries. a strong scent
Black Cinnamon- Surround your senses with this blend of exotic spices and rich earth tones consisting of spice, patchouli, sandalwood and vanilla musk.This does not have a cinnamon scent.
Black Coconut- Sunset in paradise....rich coconut, star anise, cedarwood and island blossoms promise an evening of luxurious tranquility.
Black Raspberry Cream- This fragrance has mouth watering goodness inspired by black currant, grapefruit and mandarin in the top note. Blackberry and apple touched by jasmine and violet warm the bloom, supported by naturally creamy sweet orange blossom. This is a duplicate of the Bath and Body works Black Raspberry Vanilla.
Blueberry Cheesecake- Inviting aroma of baked vanilla cheesecake and mouthwatering blueberries.
Blueberry Cobbler - Freshly baked blueberry cobbler straight from grandma's oven. Strong scent throw - real blueberry scent.
Blue Lagoon- A great scent that evokes a feeling of freedom only found in a secluded lagoon on a tropical island. Our Blue Lagoon melts have a floral woody combination of jasmine, rose, lilac, and sweet violets with a woody and smooth musk background. Very strong aroma-really strong!
Butt Naked- A saucy tropical blend of melons, strawberries, pears and fresh green apples. Captures the youth of summertime! A customer favorite and best seller- great scent throw.
Butter Pecan Pie- Smells just like homemade Pecan Pie.
Butterscotch- Sweet, fruity liquor note with a strong vanilla background reminiscent of sweet caramel and butter.
Cabernet Sauvignon- A very strong scent with a complex bouquet.
Cabin in the Woods- A duplicate of the popular Yankee Candle fragrance 'Autumn Lodge', this fragrance has top notes of winter green and pine needle with middle and bottom notes of fir balsam, cinnamon, and spice.
Cactus and Sea Salt- Unique clean scent combining aroma of cactus with salty ocean breeze
Candy Cane – Sweet smell of the holiday favorite.
Cantaloupe – Succulent and sweet ripened cantaloupe in the warm summer. Strong authentic fresh melon scent
Caramel Pumpkin- Our daughter developed this scent and it is wonderful! Captures the aroma of two Holiday favorites. This is a must scent for the Holidays. A perfect blend of caramel and pumpkin- great scent throw
Caribbean Escape – Just like the Bath and Body Works scent. A blend of Coconut, Raspberry and Melons, truly tropical!
Cashmere - This is a warm herbal musky fragrance with very good scent throw. This scent will be great in any room.
Cedar Closet – This is the classic scent of a cedar closet warm, nostalgic, and inviting. Has a good cedar scent turned our bedroom into a cedar closet.
Chai Tea- Captures the essence of this much loved, and centuries old beverage, with notes of black tea, cinnamon and sweet vanilla. This scent has great scent throw.
Chocolate Kiss- Our Chocolate Kiss melts smell just like milk chocolate. While burning these candles many have asked me if I was baking brownies. If you love chocolate this candle is for you.
Christmas Cabernet- A holiday wine blended with strawberry and grape notes.
Christmas Cheer – A Fruity and Spicy bouquet with Cinnamon, Ginger, Clove, and Pine with a sweet Apple background.
Christmas Hearth- A nutty bouquet with maple, cinnamon and clove top notes with a sweet background.
Christmas Mulberry- Blend of woods spices, fruits, and flowers made to enhance the Christmas spirit.
Cinnamon Buns- Spicy, warm and sweet morning pastry.
Cinnamon Caramel Swirl - The ultimate blend of creamy caramel, cinnamon and sweet vanilla. A duplicate of the Bath and Body works fragrance
Cinnamon Stick- The aroma of the classic raw cinnamon stick. A great cinnamon aroma! great scent throw
Citrus Cilantro- Citrus notes with the smooth scent of cilantro. This is not a strong scent but adds a subtle fragrance to you room. This is a great scent to freshen an area that has pets. This scent is a duplicate of the Pier 1 scent
Clean Linen- The aroma of Clean Cotton dried in the outside breeze. Very strong clean aroma
Coconut- Fresh cracked coconut that is a customer favorite
Coconut Bourbon- This is one of the best Vanilla mixtures I have smelled in quite some time. A very complex Coconut and Vanilla combination with a hint Blonde Cedar and Musk
Coconut Creme Pie - Smells just like the real thing - a great coconut scent with a great scent throw.
Coconut Hibiscus- Light floral notes of hibiscus, violet, and peony are blended on a base of sweet coconut to create this fruit-floral blend.
,
Coconut Lime Verbena- This great scent has excellent scent throw, combining creamy coconut and crisp lime on a verbena background. This scent is great for any room, a duplicate of the Bath and Body Works scent.
Coriander Rosewood- Orange and Coriander Seed on a base of Rosewood and Musk.
Coriander & Tonka- A rich and sultry fragrance with notes of amber, tobacco, and sweet vanilla. This is truly a unique and captivating fragrance you've got to try! Great Scent Throw.
Cottage Breeze- Smells like a cool ocean breeze a truly refreshing fragrance. This is a duplicate of the popular Yankee Candle fragrance. This fragrance has a very good scent throw.
Country Breeze- A complex blend of sharp green notes with a hint of ozone on a strong rose background. This is one of our popular scents that bring that fresh air scent to your room.
Country Rain- A clean linen scent with a wild rose floral heart. One of the best clean scents we have.
Country Grape- A fragrance reminiscent of luscious grapes grown in warm sunlight and harvested at their finest peak. Very good scent throw
Cranberry Citrus- A blend of tart cranberries, juicy red grapefruit, tangerine, sweet orange, and lemon lime. This is a great kitchen fragrance, and also makes a great spa scent for the bath.
Cranberry Kettle Corn- This smell will remind you of stringing cranberry popcorn on the Christmas tree! Top-notes of dried cranberry, red raspberry and warm, melted butter with mid-notes of sweet kettle corn, African violet and sugared iris on a dry-down of sheer musk.
Cranberry Marmalade- A mouth-watering blend of spiced cranberries, crisp spiced apples, fresh oranges, cinnamon, clove, and vanilla.
Cucumber Melon - Enjoy the great combination of Cucumber and Sweet Melon. this is a duplicate of the Bath and Body Works scent. This scent has a very good scent throw and a lovely aroma.
Creme Brulee-Rich scent of the French dessert of delicious custard topped with caramelized sugar. Strong scent
Cozy Cabin- A woodsy rustic scent, notes of cedar and other woods.
Dickens Christmas (Country Christmas) – A fruity spicy bouquet with cinnamon, clove, nutmeg, and juniper notes with a sweet, musky background.
Dreamsickle- Smells just like the frozen treat. Orange peels and lemon zests sweetened by shaved coconut and French vanilla.
Egg Nog- A creamy blend of Rum, Cinnamon and Fruits.
Endless Love-A duplicate of the popular Victoria's Secret* fragrance, a delightfully delicate marriage of citrus and sage mingling with apple, melon and ylang ylang. Undertones mossy woods and vanilla musk create a silken impression as the fragrance unfolds.
Eucalyptus- Aromatic Eucalyptus leave scent
Eucalyptus Bay- The aroma of Eucalyptus with a spice background.
Eucalyptus & Spearmint- Truly a stress relieving combination, the aromatic aroma of Eucalyptus balanced with clean Spearmint. Very good scent throw
Fall Festival- This fragrance is amazing! Top notes of sparkling citrus, cinnamon powder and macintosh apple with mid notes of blush rose, clove buds and crushed greens on a base of raspberry jam, scarlet peach and sugared vanilla. This is a very strong scent.
Fireside- Scent of a cozy campfire. Great scent throw and strong.
Flowering Dogwood- This floral scent will evoke memories of wild Dogwood in full bloom
Forbidden Fantasy- This Victoria's Secret duplicate is an exotic intoxicating tropical floral fruity type with notes of passion fruit, papaya-mango, jasmine, cyclamen, and musk.
Frankincense and Myrrh- A Balsamic Blend of Resins and Woods.
French Market – A cozy flower shopwith roses, magnolia, gardenia, tuberose, and arris blossom. This is one one our strongest floral scents, this scent has a strong scent throw - a complex floral scent.
Fresh Baked Bread- Reminiscent of a fresh loaf straight out of the oven. smell just like fresh bread, very good scent - has good scent throw.
Fresh Cut Grass- This scent has a strong scent throw with a pleasant grass fragrance.
Fruit Slices- A blend of sliced Grapefruit, Oranges, Lemons, Strawberries and Ripe Raspberries. Very strong citrus and very strong scent.
Fudge Brownie- Fills the room with the aroma of fresh baked brownies! YUM!
Funky Monkey - Intriguing blend of bananas and coconut with tropical fruit undertones. A true customer favorite, you will not want to miss. AKA Monkey Farts but name has been changed to appeal to our family friendly customers.
Gardenia- A floral bouquet of white gardenia flowers.
Gardenia Lily- The fresh floral aroma of summertime Gardenias and Elegant Lilies. (A duplicate of the Bath and Body Works Scent).
Georgia Peach- Smells just like fresh picked ripe peaches. This is not a sickening strong scent, very a good scent throw- great for a wonderful background.
Ginger and Lime- A clean and refreshing scent. A beautiful blend of lemon, orange and ginger oil top notes with lily and lilac, orange flower and lime oil on a base of vanilla, amber and musk. This is a good strong citrus scent, great for kitchens and bathrooms.
Ginger and Pear- A hint of orange adds sparkle to this blend of fresh pear and warm ginger. Rich tones of cinnamon and maple enhance the ginger note as it blends with the base of sugared vanilla bean and golden amber.
Gingerbread – Fresh from the oven fresh baked Gingerbread, and sliced releasing the aroma of spices and vanilla.
Grandma's Kitchen – Fill your room with the smells and memories of going to Grandma's house for the holidays.
Grandpas Pipe- This great scent of pipe tobacco combines cherry, vanilla, dark brown sugar and mahogany woods
Granny Smith Apple – A Crisp and Tart scent that captures the true scent of fresh sliced Granny Smith Apples. When we tested this scent we found it to be light to moderate scent in a large room. A great background scent- clean and crisp slightly tart - a true apple scent.
Green Tea & Cucumber - This is a duplicate of the Bath and Body Works fragrance. A refreshing light fragrance that fills the room. This is a perfect blend of smooth GreenTea and clean fresh Cucumber. This scent has a very good scent throw.
Grey Dawn – Top notes of Calabrian bergamot, black pepper and shaved cypress with mid notes of saffron flower, sweet hay and chicory wood on a dry base of supple leather accord, white patchouli, crystallized amber and diamond musk. Has a good scent throw filled our large bedroom with a great aroma.
Happy Holidays- This scent captures the aromas of the holiday season. A special blend of cinnamon and spices create a wonderful aroma.
Harvest Blessing- Smells just like the popular Yankee Candle scent 'Harvest'. The fragrance of the harvest and the blessings throughout the holidays.
Harvest Moon- This warm Autumn scent will put you in the mood for hay rides and Halloween. Spicy cinnamon blends deliciously with orange peel, creamy vanilla, and light fruity tones. Hints of baked apples and oak give life to this multidimensional fragrance, while a warm bottom layer of musk and spices balance it all out. So cozy!
Hazelnut Coffee- A rich, full-bodied aroma accompanied by the buttery appeal of freshly roasted European hazelnuts and a touch of indulgent cream
Herb Garden- Awaken your senses with the smooth aroma of fresh herbs.
Holiday Sparkle- An enchanting blend of spruce, apple cider, cranberries, and plum form the top layer of this jovial scent. Grapefruit, mandarin, cinnamon, and clove notes intertwine to rejuvenate the holiday spirit in all of us, as the light essence of vanilla beans and musk provides a delicate finish. Get ready to sparkle and shine at all your Holiday celebrations with this fragrance!
Hollyberry- Cinnamon and clove sweetened with vanilla and orange peels.
Home for the Holidays – A duplication of the popular Yankee Candle scent, this scent features fresh spruce boughs wrapped in cinnamon and clove with a touch of tart orange peel.
Honeysuckle- A honeysuckle blend with hints of jasmine, rose, and lilac
Hot Apple Pie- The great aroma of a freshly baked hot apple pie. This scent has a very good scent throw and smells just like hot apple pie.
Hot Cranberry Tea-A beautiful blend of cranberry, bergamot and lemon top notes with white flower and ylang ylang.
Hyacinth- Soft and sensual. Smells just like hyacinth flowers, has a very good scent throw.
Hydrangea- Reminiscent of luscious purple hydrangeas in bloom on a warm spring day.
Indian Summer- A luscious tropical fruit medley with peaches, pineapples, lemons, limes, grapefruits, melons, and fresh apples. This scent easily fills the room with scent- very good scent throw.
Indian Sandalwood- A warm and rich woodsy fragrance that is sensual.
Island Spa- Fresh Citrus on a bed of Lemon Verbena, evokes a relaxing massage in a tropical getaway. This is a duplicate of the popular Yankee Candle scent. This fragrance has a strong scent throw.
Jack Frost – A Wintery mix of Menthol and Eucalyptus, highlighted with Vanilla, that will stimulate your senses and refresh. A duplicate of the popular Yankee Candle Fragrance.
Jamaican Me Crazy- Blend of tropical fruits with a twist of citrus and a hint of coconut
Japanese Cherry Blossom- A fresh-woody floral white-cherry blossom type with top notes of green rosewood, middle notes of lily-rose, and a woody background.
Juniper Breeze - A duplicate of the bath and body works fragrance - a very clean scent with some green and floral scent - very strong scent throw
Kentucky Bourbon- This is a sophisticated warm vanilla scent, slightly sweet with complex undertones
Key Lime Pie - Very good scent throw - a duplicate of the Yankee candle scent - smells just like Key lime Pie - Strong Lime Aroma
Lavender- The relaxing scent of fresh cut Lavender. Medium scent floral scent throw, a good lavender scent.
Lavender Pound Cake- Top notes of meyer lemon and French lavender with mid notes of cinnamon and cracked clove on a dry base of angel cake batter, vanilla sugar and sweet cream. Strong scent throw with authentic Lavender scent.
Leather- A true leathery bouquet, many of our customers have told us this is the best leather candle they have smelled. We have tested several leather fragrances and feel this is a deeper richer stronger leather aroma.
Leather and Lace- We have combined two of our most popular scents to create a rich smooth aroma that will delight all. A smooth vanilla scent on a light leather background. Has a great scent throw.
Leather and Spice- An enticing blend of our great leather and aromatic spices create a warm smooth aroma surely to delight the senses. This scent has a great scent throw.
Lemon Eucalyptus- Refreshing Lemon on a Cool Eucalyptus Background.
Lemon Verbena- Eucalyptus, corn mint and leaf green notes add an invigorating, refreshing twist to lemon with this popular Yankee Candle duplicate fragrance. A great citrus scent throw great for kitchens and bathrooms.
Lemongrass Sage- This is a duplicate of the popular Bath and Body Works fragrance. A Citrus Blend on a Herbal Background.
Lavender and Lemon- A beautiful blend of lemon and french lavender.
Lick Me All Over - A wonderful exotic blend of raspberry, cantaloupe, and watermelon with a twist of jasmine and violet, and a hint of grapefruit and kumquat. Has a very good light floral scent throw this make a perfect bathroom fragrance.
Lilac- Soft floral fragrance of lilacs in full bloom. Medium floral scent throw- pleasing to the senses
Lime- The clean refreshing scent of fresh cut lime.
Lime in da Coconut – This fun scent is clean and subtle with inviting coconut.
Lodge Leather- A warm and cozy scent, that is reminiscent of a warm cozy rustic lodge with a blazing fireplace to gather around and enjoy to moment. A very good strong scent.
Love Spell - An enchanting seductive scent, a duplicate of the Victoria Secret fragrance. Very good scent throw great for the bedroom.
Macintosh Apple - A strong apple scent with a strong scent throw.
Mango Beechwood- Just like the popular Bath and Body Works* fragrance, a blend of mango, tangerine and mandarin on a light floral background.
Mango Papaya- An incredible blend of tropical fruits. Good scent throw.
Mango Peach Salsa- Luscious tones of fruit are blended with warm spicy tones in this tempting creation. Bright citrus notes of tangerine balance with fresh cherry for the tangy top note. A heart of ripe peach mingles with strawberry, as hints of spice add delightful texture to the blend. Floral undertones are enveloped in a clean musk base to complete the fruit sensation.
Maple and Brown Sugar- Warm Vermont Maple Syrup sweetened with a touch of brown sugar
Maple Glazed Bacon- Intriguing fragrance with a strong maple and a true bacon scent. Strong sweet scent throw.
Market Herbs- Finally a true herbal scent, not perfume like most herbal fragrances. A blend of earthy and deep herbs on a light woodsy background. A very good herbal scent throw.
Midnight Pomegranate- Smells divine, Pomegranate, Sparkling Citrus, Dewberry, Anise, Cinnamon and Nutmeg on a light berry base. This is a duplicate of the great Bath and Body Works Scent. Has a strong scent throw.
Mistletoe – Christmas memories will come to mind when you experience this combination of freshness and natural woods. This is a duplicate of the popular Yankee Candle fragrance.
Mint and Eucalyptus – Stimulate you senses with cool mint and refreshing eucalyptus.
Moonlight Path – A duplication of the Bath and Body Works Scent. This fragrance is a soft floral scent enhanced by Jasmine and Rose flowers.
Mountain Pine- The smell of majestic Mountain Pine
Mulberry- The scent of classic Mulberry. This scent is great has a great aroma and scent throw.
Mulled Cider- Spicy bouquet of apple, clove, orange and cinnamon topnotes with a sweet musky background.
Nag Champa- A lovely oriental aroma that evokes sensuality and warmth.
Naked Cowboy – Two of our most popular scents combine to create this scent. Our rich leather scent and delightful butt naked create a surprisingly pleasant scent
Noel- This scent captures many of the aromas of Christmas. Nice holiday blend of pine, cinnamon, and orange clove.
Nordic Spa- Arouse you senses with all the aroma of a European Spa experience. This scent is gaining popularity quickly.
Oak Moss - A great earthy woodland manly scent- Musky and rustic with a great scent throw- A must try fragrance.
Ocean Waves- A crisp clean scent with a touch of sweetness but not too much.
Orange Grove- A bouquet of fresh squeezed Oranges. Citrus based scents are traditionally know for their ability to help neutralize offense scents, without a strong scent throw, but in our testing Orange Grove has a medium scent throw with a clean crisp orange scent. Use citrus based scent to help neutralize pet odors and other stale odors.
Orange Patchouli- The invigorating aroma of citrus is enhanced with the earthy scent ofpatchouli.
Oud Wood- Exotic fragrance with slight sweetness to a wonderful woody scent.
Patchouli- An interesting floral bouquet scent reminding us of good times in the past. With real Patchouli has a slight perfume smell light to medium scent throw.
Patio Garden- This fragrance has the aroma of a spring day on a lush green patio. Fresh green plant aroma. This fragrance has a very strong scent throw, I could smell this aroma in multiple room in my home.
Peaches and Cream- A creamy nectar of juicy peaches and citrus
Peony- The aroma of pink petals of peony combine with wild rose, African violets, and Carolina jasmine on this classic floral fragrance. Has a very pleasant strong aroma.
Peppermint - Crisp and Creamy mint.
Peppermint Bark - A blend of fresh peppermint, vanilla and chocolate.
Peppermint Patty- Rich Chocolate with a creamy mint filling
Pina Colada - Smells just like the drink - a great summer scent with great scent throw
Pineapple- Sweet tropical Pineapple scent
Pineapple Coconut- A great combination, sweet pineapple and coconut. Has medium scent throw.
Pink Chiffon - The perfect blend of fruits and flowers on a light base of vanilla and chiffon musk.
Pink Grapefruit- Fresh cut tart Pink Grapefruit. This is not a strong scent, but a great background scent that is crisp and clean. Use this fragrance to help neutralize unwanted ordors.
Pink Sugar- This is a strong scent with awesome scent throw. This is smooth scent slightly sweet, some say it smells like cotton candy, but I think it is much more complex. A must try scent.
Plum- A nice bouquet mixed with berries and some subtle spice notes
Plumeria- Fruity, floral blend with hints of green notes. Strong floral scent throw.
Prince Charming- Soothing, sophisticated manly scent
Pomegranate- The rich scent of ripe pomegranates. Has a strong scent throw, it filled multiple rooms with aroma, very pleasant scent.
Pumpkin Patch-A french vanilla cream pudding slight by caramelized with hints of pumpkin spices.
Pumpkin Pie Spice – The wonderful mixture of holiday pumpkin spices.
Pumpkin Souffle- A rich pumpkin flavor blended with fresh nutmeg, cinnamon, creamy caramel and toasted vanilla. Yum! A strong aroma.
Roasted Chestnuts – Nothing beats the aroma of Christmas like Roasting Chestnuts on an open fire.
Rose Petals – A floral bouquet reminiscent of fresh picked roses
Sage and Citrus- This is a duplicate of the popular Yankee Candle scent. This Citrus scent is a great scent for the Kitchen. Has a very good citrus scent.
Sage Melon & Grapefruit- When the three scents are combined you get a sharp slightly sweet herbalaroma that is very pleasant to the senses.
Salted Carmel – Yum! Salt and sweet buttery caramel.
Sandalwood- Woody bouquet with touches of cedarwood, amber, cedar leaf and musk.
Sea Breeze – Fresh clean scent. Perfect sea spray/musky/beach scent
Sexy Little Thing- A fruity-floral blend of apple, exotic jasmine and sensual cashmere woods.
Smell of Christmas- Blend of cinnamon bark and leaves with fir needles and pine enhanced by clove buds.
Spiced Pear- A blend of pear, sweet pumpkin, cinnamon, clove, sugar and vanilla.
Spring Rain- The fresh smell of rain on a spring day. A strong clean scent. Medium to strong clean scent throw.
Strawberry Kiwi- Blend of sweet strawberries and ripe kiwis
Stress Relief- Orange adds brightness to this blend of inviting woods and soft floral tones creating sensual warmth
Sugar Cookie- Fresh from the oven soft and savory Sugar Cookies.
Sugared Cronut – Top notes of cinnamon sugar and baked crust accord with mid notes of fresh churned butter and mixed batter on a dry base of agave syrup, powdered sugar and vanilla bean. Yummy! My wife burned this scent at work and everyone wondered what she had brought to work to eat. Very good scent throw!
Sweet Jasmine Vine- The smell of summer days is captured with this classic jasmine climbing vine with bright orange and petitigrain top notes folding into a jasmine, honeysuckle and orange blossom heart.
Sweet Mandarin & Chili Pepper - A blend of sweet mandarin oranges with a touch of spicy fresh chili peppers.
Sweet Potato Pie - A blend of sweet potato, marshmallow, brown sugar, cinnamon, nutmeg and vanilla.
Sweet Snow- A soft mint with a vanilla background.
Sweet Pea- This is a duplicate of the popular Bath and Body Works scent.
Teak Bamboo- Bamboo Leaf with Floral Notes on a base of Blonde Woods, Musk and Teak. Very good scent throw, very exotic.
Texas Bluebonnets- Spring in Texas always mean that our bluebonnets are blooming and what a treat it is to see the fields full of blooming bluebonnets. Our scent captures the aroma of our state flower in all it's glory. Truly a favorite of our customers. One of our strongest floral scents.
Tobacco - Reminds me of smooth vanilla pipe tobacco - This scent has a strong scent throw. Delectable creamy vanilla and dark brown sugar
mix together with smoky tobacco and mahogany woods.
Tropical Fruit Salsa- Tropical notes of pineapple and passion fruit are mixed with slices of peach, citrus and a hint of juicy black cherries
Tropical Paradise - A great tropical scent with good scent throw
Twilight Woods- A hypnotic blend developed to instantly evoke the mystery and beauty of enchanted woods. A duplicate of the Bath and Body Works fragrance.
Twisted Peppermint - A tempting blend of cool, refreshing mint, white sugar, and just a hint of rich vanilla. This is a duplicate of the Bath and Body Works scent. Has a medium scent throw, a great background scent.
Vanilla Bean- The true aroma of fresh vanilla beans
Vanilla Cardamom- This is an exotic and complex vanilla scent. Top notes of fresh churned butter, ground cardamom and heirloom apple with mid notes of cake batter accord and heliotrope blossoms on a dry base of bourbon vanilla and creamy Tonka bean. Yum!!
Vanilla Chai- Classic vanilla added to exotic scent of Chai, combining ginger, & cinnamon. This is a warm and relaxing scent.
Vanilla Lavender- Warm vanilla with relaxing lavender
Vanilla Nut- Delectable creamy vanilla and dark brown sugar mix together with smokymahogany woods.
Vanilla Oak- A very complex Vanilla and Oak Wood scent. A customer favorite.
Vanilla & Pink Grapefruit- A smooth vanilla scent on a citrus background
Verbena Bamboo - A very strong scent - clean and fresh a green scent with a touch of floral
Victorian Christmas – Top notes include fruity aspects with fir needle, mid-notes of warm baked apple and cinnamon with base notes of warm, sweet woodsy scents and patchouli.
Warm Vanilla Sugar- This is a warm and cozy scent, quickly filled my bedroom with a wonderful aroma. This is a very accurate duplicate to the Bath and Body Works fragrance. A must try scent.
Watermelon- The great aroma of a fresh cut melon.
Watermelon Lemonade - A blend of vine ripe sweet watermelon and fresh squeezed lemons- a duplicate of the Bath and Body Works fragrance.
Wedding Cake- Fill your senses with fresh baked wedding cake and be reminded of great times. A great food scent and very strong.
White Christmas – A duplicate of the popular Yankee type. Top notes are fresh, floral and clean, mid-notes are cinnamon spice, and base notes are a musky, warm amber and powder scent.
White Ginger and Amber- An exotic mix of precious woods and vanilla with a touch of coconut.
Wine and Roses- This blend is incredible! The aroma of both the wine and the rose just jump out of this incredibly strong fragrance.
Winter's Night- The aroma of being outside on a winter's night of a burning fireplace with a touch of mint and eucalyptus. The is a good strong scent with great scent throw.
Winter Wonderland - An exhilarating fragrance perfect for the holidays! Imagine the tranquility of fresh snow, festive lights, and cozy winter spices, at your fingertips! Let your imagination take over while you indulge in this Winter wonder that includes warm notes of cinnamon, clove, vanilla musk and mulberry.
Yuletide- A cedarwood and light orange blend.