Soy Wax Melts Q - S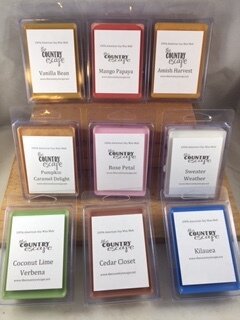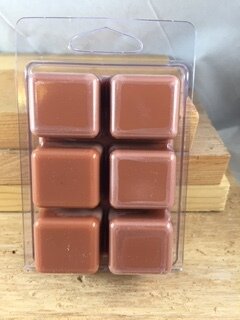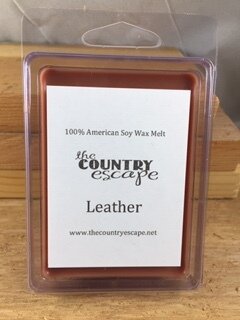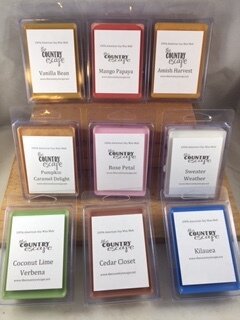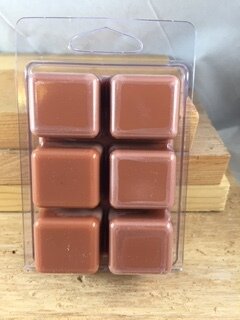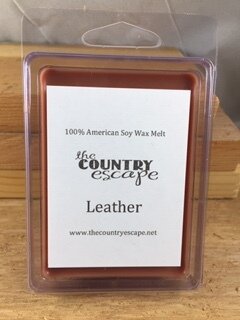 Soy Wax Melts Q - S
You are purchasing one of our 100% American Soy Wax Melts. These are designed to be used in electric wax warmers. Each of the packs has six individual compartments. We recommend that you use two cubes in the regular size warmer. We have the following scents available:
PLEASE LIST THE SCENT(S) YOU WANT
Raspberry Lemonade - Sweet raspberry blended with the crispness of lemonade makes for a wonder tangy mix.
Raspberry Sorbet - Fruity notes give this Raspberry Sorbet a mouthwatering sensation. The blend between Wild berry and fruit pulp give it that oomph, while creamed vanilla and raspberry bring it all together for the perfect balance.
Roasted Chestnuts – Nothing beats the aroma of Christmas like Roasting Chestnuts on an open fire.
Rosemary Mint - A refreshing blend of rosemary, fresh garden herbs and zesty mint
Rose Petals – A floral bouquet reminiscent of fresh picked roses
Sage and Citrus- This is a duplicate of the popular Yankee Candle scent. This Citrus scent is a great scent for the Kitchen. Has a very good citrus scent.
Salted Caramel – Yum! Salt and sweet buttery caramel.
Salted Cucumber & Melon - Cucumber extract infused with exotic fruits, melon, seamoss, and Baltic amber. Base notes of Himalayan salt finish off this refreshing and energizing fragrance.
Salty Dog w/lime - This grapefruit and Vodka/gin based drink has a wonderful citrus smell with a twist of lime and a pinch of salt. A clean scent with a touch of Lime.
Sandalwood- Woody bouquet with touches of cedarwood, amber, cedar leaf and musk.
Santa Farts - A funny name with a great aroma, smells like fresh baked cookies left out for Santa. Buttery and Creamy sweet Chocolate with Nuts on a base of rich Vanilla.
Sassy - Reminiscent of crisp clean Alpine air. Fresh Ozone and Citrus with a hint of floral, on a base of Musk
Sea Breeze – Fresh clean scent. Perfect sea spray/musky/beach scent
Sea Petals - A light floral blend of roses and violets with a touch of light green notes, blended with some fruity notes of peach, citrus, and strawberry.
Sex on the Beach- A playful rendition of the classic tropical mixed drink that blends fresh pineapple and orange with tart cranberries. Notes of vodka and peach schnapps give this fragrance its "true to life" scent. Great scent throw.
Sleigh Bells - A floral bouquet with citrus and almond topnotes with a sweet musky background. It has a light, sensual scent with mild sweet undertones.
Smell of Christmas- Blend of cinnamon bark and leaves with fir needles and pine enhanced by clove buds.
Sour Raspberry Candy - This is a sweet and tangy blend of citrus and green fruity top notes blended with a touch of rose and sweet berries which are enhanced by a sweet base of raspberry, and creamy vanilla.
Sparkling Limoncello - A refreshing blend of sparkling lemon, sugared mint & fresh verbena
Sparkling Pear Riesling - Crushed Riesling grapes are blended with a hint of jasmine to create the beverage sensation that opens this scent. The rich pear fragrance signature is warmed with hints of wood and finished with a blush of creamed vanilla for lingering texture.
Spiced Pear- A blend of pear, sweet pumpkin, cinnamon, clove, sugar and vanilla.
Spooky Punch - Orange and mulled fruit are blended together with oak and patchouli on a base of sugared berries to create this delightfully spooky scent.
Spring Rain- The fresh smell of rain on a spring day. A strong clean scent. Medium to strong clean scent throw.
Strawberry Kiwi- Blend of sweet strawberries and ripe kiwis
Stress Relief- Orange adds brightness to this blend of inviting woods and soft floral tones creating sensual warmth
Sugar Cookie- Fresh from the oven soft and savory Sugar Cookies.
Sugared Cronut – Top notes of cinnamon sugar and baked crust accord with mid notes of fresh churned butter and mixed batter on a dry base of agave syrup, powdered sugar and vanilla bean. Yummy! My wife burned this scent at work and everyone wondered what she had brought to work to eat. Very good scent throw!
Sugar Plum- A nice bouquet mixed with berries and some subtle spice notes
Sultana - A soft subtle floral scent with a little citrus, and musk. The to me have a nice clean aroma and a good scent throw. This a duplicate of the Lush fragrance scent.
Sun Kissed Coconut - If your looking for a true coconut fragrance this is it, a perfect blend of the tropics. Fruity accents add shimmer to this summer blend of creamed coconut and sea salt. Layers of musk and sugared vanilla blend with amber for lingering sweetness. This scent smells like summer.
Sweater Weather - A burst of fresh air tingles with mint as it opens this festive blend, Snow covered pine needles are sweetened with winter berries and laced with wood notes that lead to the velvet mossy undertone. Lingering sweetness of vanilla musk finishes the scent. This is a duplicate of the Bath & Body work fragrance.
Sweet Jasmine Vine- The smell of summer days is captured with this classic jasmine climbing vine with bright orange and petitigrain top notes folding into a jasmine, honeysuckle and orange blossom heart.
Sweet Mandarin & Chili Pepper - A blend of sweet mandarin oranges with a touch of spicy fresh chili peppers.
Sweet Potato Pie - A blend of sweet potato, marshmallow, brown sugar, cinnamon, nutmeg and vanilla.
Sweet Snow- A soft mint with a vanilla background.
Sweet Pea- This is a duplicate of the popular Bath and Body Works scent.