Soy Wax Melts A - B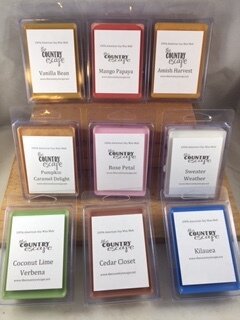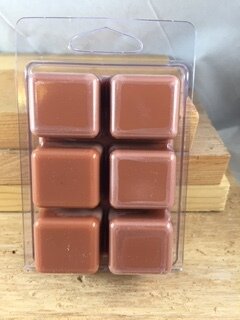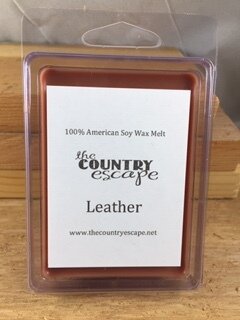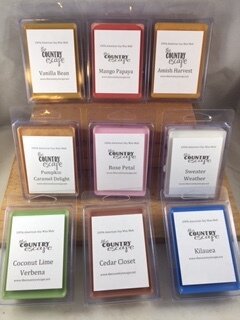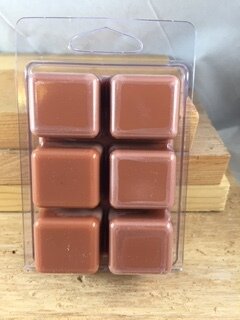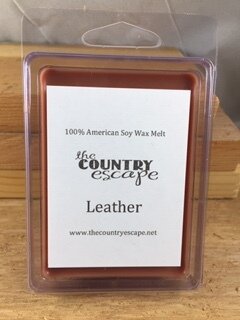 Soy Wax Melts A - B
You are purchasing one of our 100% American Soy Wax Melts. These are designed to be used in electric wax warmers. Each of the packs has six individual compartments. We recommend that you use two cubes in the regular size warmer. We have the following scents available:
PLEASE LIST THE SCENT(S) YOU WANT
Agave Papaya Sunset- This is a copycat of the new Bath & Body Works Fragrance- A lush blend of sweet agave and succulent papaya.
Almond Pastries – Light flakey pastries with a sweet almond flavor. A great comfort scent.
Amaretto - An awesome blend of cherry and vanilla. A strong scent
Amish Harvest- An irresistible blend of fruits and spices make this a favorite holiday fragrance. The scent has great aroma and scent throw.
Angel- This is a copycat of the designer Women's fragrance, that captures the pure innocence of an angel. This scent has very good scent throw.
Apple Jack & Peel- An irresistible scent of apples and oranges blended together with the warm aromatic spices of cinnamon, clove, nutmeg and ginger. The base is a rich long lasting vanilla. Has a good strong scent throw.
Arugula - A very clean scent with a hint of green, great for bathrooms and bedrooms- very strong scent throw
Apple Cinnamon- The great aroma of fresh baked Apples sprinkled lightly with Cinnamon.
Apple Pumpkin Butter - Rich buttery tones envelop the scent of sweet apple as this fragrances reveals mid-notes of spiced cinnamon and pumpkin. Warm woodsy base notes with a hint of vanilla sugar create the perfect finish to this warm and spicy fragrance.
Apple Slices- Pure apple smell in a subtle scent, not overpowering or sweet but clean and crisp
A Thousand Wishes - Warm your heart a thousand times over with a festive blend of sparkling champagne, crystal peonies and almond crème. This is a B&BW copycat fragrance.
Around the Tree - Smells just like a Christmas Tree Farm. A Blend of Mountain woods including Balsam, Cedarwood and Pines.
Autumn Day: Inspired by the fresh air and brilliant colors of a stroll through a secluded wood in autumn with notes of oak, citrus and golden amber
Autumn Delight: Sugary, buttery & fruity sweet molasses type of top notes with cinnamon, clove & nutmeg type of spicy middle notes sweet vanilla and cotton candy type of bottom notes
Autumn Harvest- Nice fall blend of orange, grapefruit, and clove.Baby Powder- A great bedroom or bathroom scent. Smells just like real baby powder.
Autumn in New England - This scent is inspired by the bountiful harvests of fall Peaches, Apples and Pumpkins in New England.
Autumn Walk - This delightful fragrance perfectly captures the essence of Fall. The scents of brisk air and crisp leaves join woody notes of rich mountain pine, cedar, and golden aspen while whiffs of forest berries, sage, and clove swirl delicately in the backdrop.
Avobath - This is a clean and refreshing scent. Lemongrass and clove are blended with lavender in this botanical inspired blend. Rich woods lead to the base layers of musk for lingering softness. This is a copycat of the Lush fragrance.
Baja Cactus Blossom- This is a copycat of the new Bath & Body Works Fragrance. The alluring beauty of a cactus flower captured in a blend of fresh white flowers, green cactus stems and sunkissed coconut
Balance and Glow - This amazing creation will keep you balanced and focused. Delicate honey blossoms kissed with sunny citrus blends, infused with lavender and Echinacea blooms. ribbons of raw vanilla and honeycomb wrap the scent in sheer delight! The perfect fragrance to accompany your yoga routine.
Balsam Cedarwood- This fragrance has the uplifting aroma of majestic balsam fir with a touch of cedar and other soft woody notes.
Balsam Nights - A mixture of Balsam, Fir Needle, and White Cedar with a hint of Apple creates an aroma of Deep Woodland trails.
Bamboo- Fresh clean crisp exotic Bamboo.
Bare Naked Lady - You will love this fresh clean scent! This scent is super strong and super fresh! Fresh Sicilian Lemon, Fresh Lime, Fresh Oranges and a shot of ozone!
Bayberry – Fir and Clove on a Lilac Bouquet. Classic Bayberry scent.
Bergamot – Fresh pressed zests with hints of Tangerine.
Berrylicious- This is a great strong scent a perfect blend of ripe, juicy blueberries and raspberries sit on a bed of creamy vanilla icing for this perfect dessert topping.
Bird of Paradise - A sweet mixture of Strawberry, Vanilla, and Wild Cherry. Has a good fruity-floral scent and strong
Black Night Phoenix - Fresh citrus and mint blended with notes of black rose and spiced patchouli. Woodsy notes of rich fern lead you to tones of sandalwood and vanilla musk.
Black Fig & Honey- Wild Honey accented with White Pear and Green Apple on a Black Fig Base. Has very good aroma, fills a room nicely.
Blackberry – The rich aroma of fresh picked blackberries.
Black Cherry – Heavenly aroma of succulent ripe black cherries. a strong scent
Black Coconut- Sunset in paradise....rich coconut, star anise, cedarwood and island blossoms promise an evening of luxurious tranquility.
Black Phoenix - A fresh forest accord of crisp pine needles and white fir is warmed with clove in this shimmering blend. Patchouli and oak add a layer of texture as the base of sugar pine lingers.
Black Raspberry Cream- This fragrance has mouth watering goodness inspired by black currant, grapefruit and mandarin in the top note. Blackberry and apple touched by jasmine and violet warm the bloom, supported by naturally creamy sweet orange blossom. This is a copycat of the Bath and Body works Black Raspberry Vanilla.
Blonde Moment - An incredible iced champagne mixed with rich sweet raspberry and cranberry. This is super fabulous and super strong!
Blooming Mums - A blend of fresh Autumn flowers and warm woods wiith undertones of neroli and blooming orange flowers.
Blueberry Cheesecake - Mouthwatering rich cheesecake. This is a great strong scent.
Blueberry Cobbler - Freshly baked blueberry cobbler straight from grandma's oven. Strong scent throw - real blueberry scent.
Blue Lagoon- A great scent that evokes a feeling of freedom only found in a secluded lagoon on a tropical island. Our Blue Lagoon melts have a floral woody combination of jasmine, rose, lilac, and sweet violets with a woody and smooth musk background. Very strong aroma-really strong!
Bourbon- Smells like Bourbon. This is a sophisticated warm vanilla scent, slightly sweet with complex undertones.
Butt Naked- A saucy tropical blend of melons, strawberries, pears and fresh green apples. Captures the youth of summertime! A customer favorite and best seller- great scent throw.
Butter Pecan Pie- Smells just like homemade Pecan Pie.
Butterscotch- Sweet, fruity liquor note with a strong vanilla background reminiscent of sweet caramel and butter.