Soy Wax Melts C - D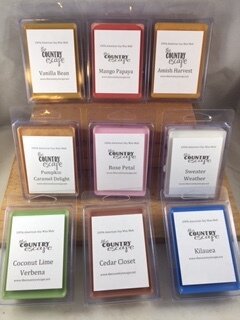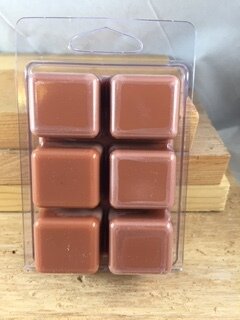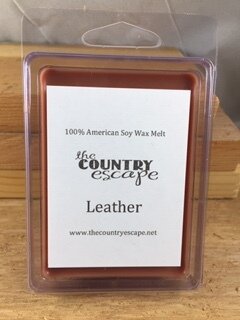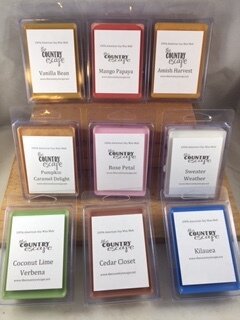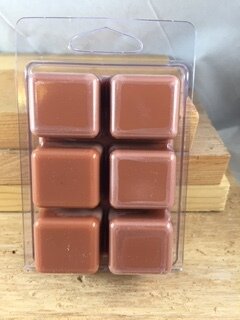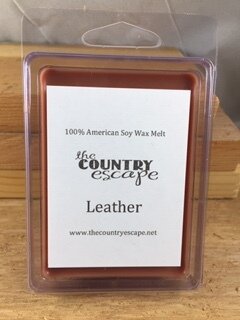 Soy Wax Melts C - D
You are purchasing one of our 100% American Soy Wax Melts. These are designed to be used in electric wax warmers. Each of the packs has six individual compartments. We recommend that you use two cubes in the regular size warmer. We have the following scents available:
PLEASE LIST THE SCENT(S) YOU WANT
Cabernet Sauvignon- A very strong scent with a complex bouquet.
Cabin in the Woods- A copycat of the popular Yankee Candle fragrance 'Autumn Lodge', this fragrance has top notes of winter green and pine needle with middle and bottom notes of fir balsam, cinnamon, and spice.
Cactus and Sea Salt- Unique clean scent combining aroma of cactus with salty ocean breeze
Candy Cane – Sweet smell of the holiday favorite.
Cannabis & Exotic Hemp - An exotic blend of fresh green mandarin, aromatic cannabis, and exotic spices with base notes of cassia and patchouli. This is a fragrance oil and does not contain any actual cannabis.
Caramel Pumpkin- Our daughter developed this scent and it is wonderful! Captures the aroma of two Holiday favorites. This is a must scent for the Holidays. A perfect blend of caramel and pumpkin- great scent throw
Caribbean Escape – This is similar to the Bath and Body Works scent. A blend of Coconut, Raspberry and Melons, truly tropical!
Cashmere - This is a warm herbal musky fragrance with very good scent throw. This scent will be great in any room.
Cedar Closet – This is the classic scent of a cedar closet warm, nostalgic, and inviting. Has a good cedar scent turned our bedroom into a cedar closet.
Chai Tea- Captures the essence of this much loved, and centuries old beverage, with notes of black tea, cinnamon and sweet vanilla. This scent has great scent throw.
Chicks Dig It - Sweet and sassy! Everyone will love this super strong scent! Sweet, ripe cherries, sugared lemons and lime laced with sweet sugary crystals.
Chocolate Kiss- Our Chocolate Kiss melts smell just like milk chocolate. While burning these candles many have asked me if I was baking brownies. If you love chocolate this candle is for you.
Christmas Cabernet- A holiday wine blended with strawberry and grape notes.
Christmas Cheer – A Fruity and Spicy bouquet with Cinnamon, Ginger, Clove, and Pine with a sweet Apple background.
Christmas Cookie- The aroma of fresh baked holiday cookies.
Christmas Hearth- A nutty bouquet with maple, cinnamon and clove top notes with a sweet background.
Christmas Memories - The smell of a traditional old-fashioned Christmas, this is a wonderful blend of Cinnamon, Clove and Vanilla.
Christmas Mulberry- Blend of woods spices, fruits, and flowers made to enhance the Christmas spirit.
Christmas Splendor- A bright fresh scent, make me think of being at home at Christmas time. A fruity spicy bouquet with cinnamon, clove, nutmeg and juniper notes with a sweet musky background. A good strong fragrance.
Christmas Wreath - This clean spicy scent mixes your favorite citrus fruits with traditional holiday spices.
Cinnamon Broom - A strong cinnamon scent like the cinnamon brooms sold in stores
Cinnamon Buns - Spicy, warm and sweet morning pastry.
Cinnamon Caramel Swirl - The ultimate blend of creamy caramel, cinnamon and sweet vanilla. A copycat of the Bath and Body works fragrance
Cinnamon Stick - The aroma of the classic raw cinnamon stick. A great cinnamon aroma! great scent
throw
Cinnamon Sugar Donuts - The smell of sweet buttery dough and maple syrup mixed with notes of cinnamon and sweet vanilla.
Citrus Cilantro - Citrus notes with the smooth scent of cilantro. This is not a strong scent but adds a subtle fragrance to you room. This is a great scent to freshen an area that has pets. This scent is a copycat of the Pier 1 scent
Clean Linen - The aroma of Clean Cotton dried in the outside breeze. Very strong clean aroma
Clove: Blend of spicy notes enhanced by clove buds with a touch of sandalwood.
Coconut - Fresh cracked coconut that is a customer favorite
Coconut Bourbon- This is one of the best Vanilla mixtures I have smelled in quite some time. A very complex Coconut and Vanilla combination with a hint Blonde Cedar and Musk
Coconut Creme Pie - Smells just like the real thing - a great coconut scent with a great scent throw.
Coconut Hibiscus- Light floral notes of hibiscus, violet, and peony are blended on a base of sweet coconut to create this fruit-floral blend.
,
Coconut Lime Verbena- This great scent has excellent scent throw, combining creamy coconut and crisp lime on a verbena background. This scent is great for any room, a copycat of the Bath and Body Works scent.
Coriander & Tonka- A rich and sultry fragrance with notes of amber, tobacco, and sweet vanilla. This is truly a unique and captivating fragrance you've got to try! Great Scent Throw.
Cornucopia- The aroma of a bountiful harvest of fall fruits and spices.
Cranberry Citrus- A blend of tart cranberries, juicy red grapefruit, tangy tangerine, sweet orange, and lemon-lime. A delightful fragrance. Nice for the holidays or as a refreshing spa scent!
Cottage Breeze- Smells like a cool ocean breeze a truly refreshing fragrance. This is a copycat of the popular Yankee Candle fragrance. This fragrance has a very good scent throw.
Country Breeze- A complex blend of sharp green notes with a hint of ozone on a strong rose background. This is one of our popular scents that bring that fresh air scent to your room.
Country Rain- A clean linen scent with a wild rose floral heart. One of the best clean scents we have.
Country Grape- A fragrance reminiscent of luscious grapes grown in warm sunlight and harvested at their finest peak. Very good scent throw
Cowboy - A truly amazing men's fine fragrance with notes of citrus, bergamot, sea salt and amber wood.
Cranberry Kettle Corn- This smell will remind you of stringing cranberry popcorn on the Christmas tree! Top-notes of dried cranberry, red raspberry and warm, melted butter with mid-notes of sweet kettle corn.
Cranberry Marmalade- A mouth-watering blend of spiced cranberries, crisp spiced apples, fresh oranges, cinnamon, clove, and vanilla.
Cucumber & Grapefruit - Fresh Persian cucumber extract enhanced with citrus and delicate notes of basil and ginger.
Cucumber Melon - Enjoy the great combination of Cucumber and Sweet Melon. this is a copycat of the Bath and Body Works scent. This scent has a very good scent throw and a lovely aroma.
Creme Brulee - Rich scent of the French dessert of delicious custard topped with caramelized sugar. Strong scent
Cozy Cabin- A woodsy rustic scent, notes of cedar and other woods.
Dark Kisses- This is one of my favorite fragrances. It balances sweet with musky and just a hint of floral.
Dickens Christmas (Country Christmas) – A fruity spicy bouquet with cinnamon, clove, nutmeg, and juniper notes with a sweet, musky background.
Dirty Dancing - HOT...SEXY...STEAMY! This oil is by far one of the BEST, sexiest oils - EVER! Black Peppercorn, Italian Bergamot, Blue Cypress, Leather, Ebony Wood, Earthy Patchouli, Tangerine, Amber Musk, and Black Moss. Super strong! Super sexy!
Dominatrix - The yummy scent of black current, bergamot and vanilla, this smells as intriguing as it's name.
Downy April Fresh- Smells just like a clean fresh load of laundry pulled from the dryer.
Dragons Blood- Orange peel blends with mulled berries and rich spices to create this Halloween fantasy. Has a good strong pleasant scent throw.
Dreamsickle- Smells just like the frozen treat. Orange peels and lemon zests sweetened by shaved coconut and French vanilla.
Driftwood- A strong aroma of woods and musk. I put this scent in my melter and feel in love with the fragrance.
Drunken Punkin' - This is a gourmet blend of fresh pumpkin and coconut infused with rich cassia and clove on a base of dark bourbon, maple, and toasted oak.
Dulce Pumpkin - Creamy coconut and white pumpkin are blended together with notes of caramel and tonka bean to create a sweet a sophisticated scent.