Soy Wax Melts E - F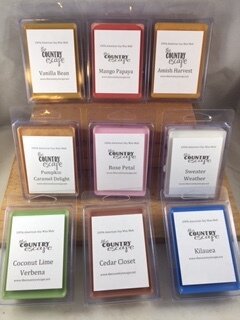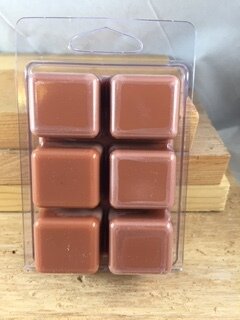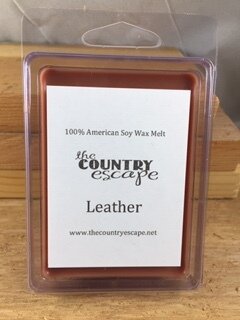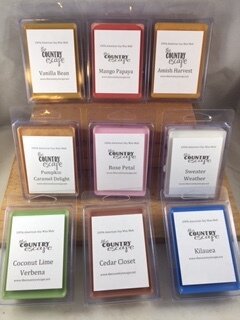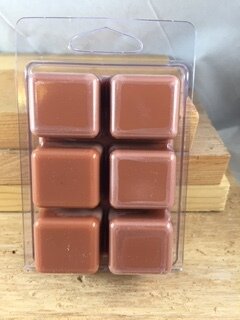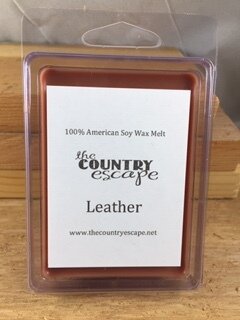 Soy Wax Melts E - F
You are purchasing one of our 100% American Soy Wax Melts. These are designed to be used in electric wax warmers. Each of the packs has six individual compartments. We recommend that you use two cubes in the regular size warmer. We have the following scents available:
PLEASE LIST THE SCENT(S) YOU WANT
Egg Nog- A creamy blend of Rum, Cinnamon and Fruits.
Egyptian Musk- A soft floral bouquet on a strong musk background
Endless Love-A duplicate of the popular Victoria's Secret* fragrance, a delightfully delicate marriage of citrus and sage mingling with apple, melon and ylang ylang. Undertones mossy woods and vanilla musk create a silken impression as the fragrance unfolds.
Endless Weekend- This is a duplicate of the new Bath & Body Works Fragrance. An exciting blend of Raspberry, Magnolia, and Vanilla Sandalwood.
Eucalyptus- Aromatic Eucalyptus leave scent
Eucalyptus & Spearmint- Truly a stress relieving combination, the aromatic aroma of Eucalyptus balanced with clean Spearmint. Very good scent throw
Fall Festival- This fragrance is amazing! Top notes of sparkling citrus, cinnamon powder and macintosh apple with mid notes of blush rose, clove buds and crushed greens on a base of raspberry jam, scarlet peach and sugared vanilla. This is a very strong scent.
Fireside- Scent of a cozy campfire. Great scent throw and strong.
Flip Flops - A PERFECT Summer Scent! Tons of coconut mixed into a creamy rich vanilla! SUPER STRONG! This oil will blow your socks off! Very tropical. You will have to remind yourself that you are not at a beach resort waiting for a fresh cocktail and someone to rub lotion on your back!
Flowering Cannabis- Buds of cannabis wrapped in a soft bouquet of muguet, osmanthus, ylang ylang and white amber. This is a fragrance oil and does not contain any cannabis.
Flowering Dogwood- This floral scent will evoke memories of wild Dogwood in full bloom
Flying Fox - A Clean Floral scent with an Earthy Smooth base. This is a duplicate of the Lush fragrance.
Forbidden Fantasy- This Victoria's Secret duplicate is an exotic intoxicating tropical floral fruity type with notes of passion fruit, papaya-mango, jasmine, cyclamen, and musk.
Forest Nymph - Unique fragrance of redwood trees, holly, balsam, moss, eucalyptus, bay and cedar
Frankincense and Myrrh- A Balsamic Blend of Resins and Woods.
French Market – A cozy flower shop with roses, magnolia, gardenia, tuberose, and arris blossom. This is one one our strongest floral scents, this scent has a strong scent throw - a complex floral scent.
Fresh Baked Bread- Reminiscent of a fresh loaf straight out of the oven. smell just like fresh bread, very good scent - has good scent throw.
Fresh Brewed Coffee- Smells just like a great cup of coffee, what an aroma.
Fresh Cut Grass- This scent has a strong scent throw with a pleasant grass fragrance.
Frosted - This is a duplicate of the Lush fragrance Ice Blue. A cool refreshing holiday scent.
Frosty-Cool Spearmint and Peppermint with sweet vanilla and cotton candy.
Fruit Loops- Smells just like the cereal
Fruity Pebbles- Smell just like the cereal. A good strong scent.
Fruit Slices- A blend of sliced Grapefruit, Oranges, Lemons, Strawberries and Ripe Raspberries. Very strong citrus and very strong scent.
Fudge Brownie- Fills the room with the aroma of fresh baked brownies! YUM!
Funky Monkey - Intriguing blend of bananas and coconut with tropical fruit undertones. A true customer favorite, you will not want to miss. AKA Monkey Farts but name has been changed to appeal to our family friendly customers.