Special Offer - Bath Soap & Deluxe Bamboo Soap Dish - Great Gift Idea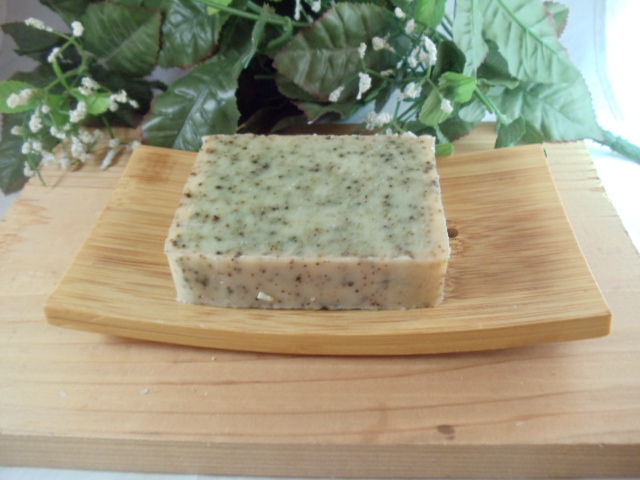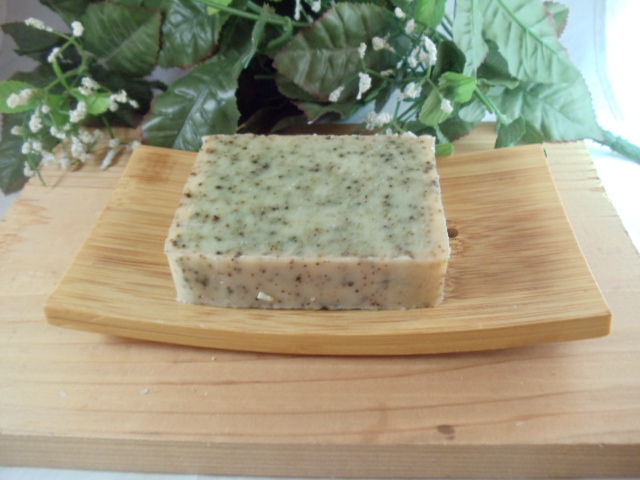 Special Offer - Bath Soap & Deluxe Bamboo Soap Dish - Great Gift Idea
You are purchasing one bar of our Bath and Body Soap and one Deluxe Bamboo Soap Dish. You choose your scent of soap (soap descriptions below).
A great way to save your handmade soap and shampoo bars. These wooden soap dishes will help you soap to last longer, by letting your soap dry properly between uses. The soap dish measures 7" x 4" and a little more than 1/2" thick. This soap dish is an attractive addition to the bathroom and will pay for itself by saving your soap bars.
Our soaps are made with natural and organic ingredients and are hand crafted in small batches. Our soaps are all naturally scented. We use a blend of Sustainable Organic Palm Oil, Organic Olive Oil, and Organic Coconut Oil. We add Organic Jojoba Oil for it's awesome skin softening and skin smoothing qualities. We also add Moroccan Argan Oil to help reduce inflammation and irritation, we add Organic Castor Oil for skin conditioning, vitamin E rich Organic Sweet Almond Oil to moisturize skin and improve complexion, Organic Avocado Oil with its skin healing properties and Unrefined Organic Shea Butter to create a great moisturizing bar of soap. We add natural ingredients with beneficial qualities that promote healthy hair and skin. This soap does not contain any chemically produced scents or dyes. Our soap is hand cut with dimensions 3 1/2" x 2 7/8" x 1" and weigh 4.5oz per bar. All of our soaps and shampoo bars are paraben free.
We have the following Bath Soaps available:
Activated Charcoal - This is a great smelling soap great for detoxification. Activated Charcoal is used to help extract toxins from the body. Made with Anise and Peppermint Essential Oils.
Almond Butter Facial Bar- We use organic Almond Butter in this soap to create a great facial soap. Gently cleansing and exfoliating. Added Ingredients: Fresh ground Almond Butter.
Aloe and Shea Butter- Extra Shea Butter is added to this bar to increase the healing properties of the Shea Butter. Shea Butter is commonly used in the treatment of eczema, rashes, burns, and severely dry skin. Contains Aloe Vera.
Beer- Soothes irritated skin, has anti-bacterial and skin softening properties. This soap makes a great shampoo for your hair, beer adds protein and gives volume to your hair. Contains real Texas Beer but does not have a beer scent.
Butt Naked- A unique fun name with a great scent. A refreshing exotic blend of tropical scents. Contains a soap safe fragrance.
Cedarwood & Tea Tree
Chamomile and Lavender- Chamomile soothes skin wounds and speeds healing of skin ulcers and burns. Great for skin problems and inflammations. Lavender is a gentle remedy that helps to treat skin problems such as inflammation, irritation, acne, eczema, psoriasis, and sunburn. It soothes, calms, heals and regenerates. Added Ingredients: Ground Chamomile Flowers, Lavender Buds, and Lavender Essential Oil.
Chamomile and Ylang Ylang- We add the healing properties of Chamomile to the sensual scent of Ylang Ylang. Added Ingredients: Ground Chamomile Flowers, and Ylang Ylang Essential Oil.
Cinnamon- A great soap for Acne and Eczema. The healing properties of Cinnamon help to soothe and repair damaged skin. Added Ingredients: Ground Cinnamon and Cinnamon Essential Oil
Citrus Splash- Dried Orange, Lemon, and Lime peal in this soap create a lightly citrus scent the gently exfoliates your skin. Added Ingredients: Dries Citrus Peel, Orange Essential Oil, and Tangerine Essential Oil.
Coffee Scrub- A great coffee scented soap with gentle exfoliation and cleansing. Contains ground Arabica coffee beans.
Double Patchouli- Patchouli is a member of the mint family. Patchouli essential oil is used as a topical remedy for skin problems such as acne, eczema, inflamed, cracked, chapped and irritated skin. It is known as a cell rejuvenator and helpful in healing wounds and scars. As an anti fungal, patchouli oil has been used to treat athlete's foot. For the hair, patchouli oil has been used for dandruff and to aid oily hair. Added Ingredients: Patchouli Essential Oil. Now with twice the Patchouli Essential Oil.
Dry Skin Therapy Soap- A bath soap designed to add moisture and help reduce skin irritation due to dry skin. This bar is creamy and moisturizing.
Eucalyptus, Peppermint & Rosemary- Wake up your senses with this invigorating soap. We use Eucalyptus Essential Oil, Rosemary Essential Oil, and Peppermint Essential Oil to create this great scent.
Eucalyptus and Spearmint- The is our stress relief blend, made with Eucalyptus and Spearmint essential Oils. Very Relaxing scent.
Four Bandits Blend- This is our version of the famous essential oil blend known for centuries to sanitize as well as boost the immune system. We blend five wonderful Essential oils to create this great soap. Contains Clove, Cinnamon, Lemon, Eucalyptus, and Rosemary Essential Oils
Frankincense and Myrrh- This soap has an earthy scent. An exotic blend of essential oils known for its anti-inflammatory and antiseptic properties. Made with Frankincense and Myrrh Essential Oils.
French Green Clay- Made with Organic French Green Clay, we add Lavender and Tea Tree Essential Oil to this soap. French Green Clay is known to help detoxify, restore mineral balance, act as an absorbent and helps tone your skin.
Garden Herb- Rosemary, Sage, Thyme, and Parsley and added to create this natural herbal soap. Added Ingredients: Tea Tea and Rosemary Essential Oil.
Ginger and White Tea-Ginger promotes smoothness and evenness in skin tone.Ginger also has the ability to lighten age spots and is believed to improved circulation, it is often used in cellulite-reducing treatments.Ginger is an anti-inflammatory, which makes it a natural acne fighting ingredient. Ginger is also an antiseptic, which means it is effective in killing the bacteria that causes acne. White tea receives less processing and is a more natural tea, so it retains more of the naturally occurring health properties. White tea is naturally very high in beneficial antioxidants. Studies show that antioxidants help the body to prevent and repair damage done from aging, sun exposure, and cancer. Added Ingredients: White Tea, Ground Ginger and Ginger Essential Oil.
Goat Milk, Oatmeal, and Honey- Switching to soap made with goat milk can truly benefit your skin's health. Goat milk soap is wonderful for people with dry or sensitive skin, or conditions such as eczema and psoriasis. It is also perfect for healthy skin that wants to stay that way. Oatmeal and Honey are added for their skin healing benefits. (Our only non vegan soap) Added Ingredients: Goat Milk, Colloidal Oatmeal, and Honey.
Green Tea and Lemongrass- Green tea is anti-bacterial and has been found to posses antioxidants that are good for cellular health. Soap products that utilize green tea as an ingredient will have the benefit of not only cleaning but protecting your skin. Lemongrass helps rough, dry, scaly skin and acne. Added Ingredients: Green Tea and Lemongrass Essential Oil.
Honeysuckle- A sweet floral scent that is summery and festive made with Honeysuckle Essential Oil
Jasmine and Hibiscus- These two great flowers are combined to create a wonderful tension relieving relaxation bar. Added Ingredients: Jasmine Essential Oil, and Hibiscus Flowers.
Lavender -Lavender is a healing herb. Lavender has strong antibacterial and antimicrobial properties. The herb can promote a sense of relaxation and calmness. This bar has a great natural lavender scent. Contains Lavender Essential Oil and Lavender Buds.
Lavender & Rosemary
Lemon and Lavender- The crisp scent of lemon combined with relaxing lavender. Contains a soap safe fragrance.
Mint and Green Tea- One of our most popular soaps.Peppermint on the skin, is used to relieve skin irritation and itchiness and also helps to reduce skin redness, where inflammation is present. It is used for dermatitis, acne, ringworm, scabies and pruritus and also relieves itching, sunburn and inflammation of the skin, while at the same time having a cooling action. Green tea is anti-bacterial and has been found to posses antioxidants that are good for cellular health. Soap products that utilize green tea as an ingredient will have the benefit of not only cleaning but protecting your skin. Green Tea and Peppermint Essential Oil.
Orange Cedarwood- Cedarwood oil is often used to treat skin disorders because of its antiseptic and astringent properties. It acts to cleanse the skin of any impurities, and at the same time tones by tightening skin tissue. Also, by relaxing the skin, cedarwood oil relieves any itchy irritations. It can be used regularly as a skin therapy for acne, oily skin, eczema, wrinkles, and blemished skin. Added Ingredients: Orange Essential Oil and Cedarwood Essential Oil.
Orange Patchouli- This is a great smelling bar of soap, we blend sweet Orange Essential Oil with earthy Patchouli Essential Oil to create a soothing aroma. These two essential oils blend very well and the result is heavenly. Orange Essential Oil is refreshing and relaxing and commonly used for the treatment of anxiety, it is also anti-inflammatory when used on your skin. Patchouli is great for dermatitis and other skin conditions like eczema. Contains Orange Essential Oil and Patchouli Essential Oil.
Passionflower- We grow our own passionflower to use in this soap. Passionflower is well known for it's calming effects. Added Ingredients: Jasmine Essential Oil, Ylang Ylang Essential Oil, Passionflower infused oil and Ground Passionflowers.
Rose Hip- The benefits of rose hips in soap include a lovely scent and improved skin appearance. Rose hip powder also is a mild exfoliate. It remains granular -- not fully dissolving in water -- and so helps to scrub away dead skin cells, leaving your skin fresh and smooth as a rose. Added Ingredients: Ground Rose Rips and Rose Hip Essential Oil.
Rose Petal - A wonderful soap with a true Rose scent.
Rosemary- Rosemary contains riboflavin (vitamin B2) which is part of what makes it a stimulant. When applied to skin and hair it aids in the regeneration of healthy cells. Using rosemary in shampoo encourages faster-growing and stronger hair. When soap or body wash made with rosemary is used skin tends to look and feel younger. Rosemary is also an astringent, which aids in maintaining the buoyancy of skin. Added Ingredients: Dried Rosemary and Rosemary Essential Oil.
Sandalwood- Sandalwood is an immunological stimulant, and can help reduce swelling in lymph glands when applied topically to the affected area. It helps scar tissue heal and fade. Also soothes sore muscles. Added Ingredients: Sandalwood Fragrance Oil.
Soy Milk, Oatmeal, and Honey- A vegan milk soap. The protein provided by soy milk keeps skin tissues moisturized, and also increases their elasticity as well. Oatmeal and Honey are added for their skin healing benefits. Added Ingredients: Soy Milk, Colloidal Oatmeal and Honey
Spearmint- A mint fragrance that fills the senses with a cooling and calming aroma. Contains Spearmint Essential Oil.
Tattoo Aftercare Soap- If you love ink or know someone who does this is a great gift idea. A gentle soap for use after getting a tattoo. Contains Tea Tree Oil and Cedarwood Essential Oil both are great in reducing irritation from new tattoos
Tea Tree & Rosemary
Texas Bluebonnet- A wonderfully scented floral soap that captures the scent of Texas Bluebonnets. We use a special floral Essential Oil Blend to create this great scent.
Vanilla- This is a true Vanilla scent, smooth and comforting. Contains a soap safe fragrance.